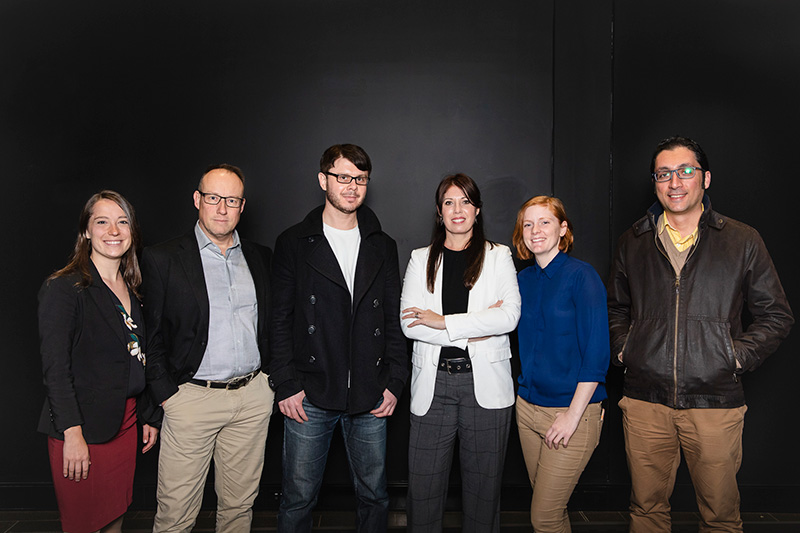 ICC Associate Director Jasmine Vreugdenburg (centre) with Venture Catalyst Space startups (L to R) Katrina Albert (Lux Aerobot), Paul Dare (FireFlight), Simon Cullen and Kelly Carpenter (Lookinglass) and Moean Kashani (Nano Space).
---
Five emerging, global startups to join the six-month incubator program
Astrogate Labs, Lux Aerobot, FireFlight, Nano Spaces and Lookinglass to work with global advisors.
Adelaide, AUSTRALIA, 30 August 2019 – The University of South Australia's Innovation & Collaboration Centre (ICC) today announced that five startups will take part in its second Venture Catalyst Space program supported by the state government's Space Innovation Fund.
A leader in business growth and acceleration, the ICC's tailored six-month incubator program aims to develop and grow the innovative ideas of selected space companies.
Five space startups were selected to participate in the program with each receiving funding, access to training and workshops, one-on-one mentorship, a modern co-working space and cutting-edge technical resources and tools.
They will work with global industry expert advisors, including ICC Entrepreneurs in Residence Kirk Drage (along with is company LeapSheep), Terry Gold, and former NASA astronaut and current Director of Space Technology and Policy of Nova Systems, Pam Melroy.
UniSA ICC Associate Director Jasmine Vreugdenburg says the program is pivotal to helping future leaders in the space industry develop and grow.
"The program will deliver high calibre support to the five selected companies, focusing on enhancing their global competitiveness and rapidly accelerating exceptional ideas or projects on the world stage.
"We're thrilled with the response from all applicants and very pleased that they have chosen to call Adelaide home during their stint with the program," Vreugdenburg says.
The companies taking part in the program are India's Astrogate Labs and Canada's Lux Aerobot, which are joined by Adelaide's FireFlight, Nano Spaces and Lookinglass.
| | | |
| --- | --- | --- |
| Astrogate Labs | Bengaluru, India | Astrogate Labs enables high-speed communications for smallsats. Its proprietary technology on the flight and ground optical terminals offers simplified communication solutions at the lowest cost per bandwidth. |
| Lux Aerobot | Montréal, Canada | Lux's atmospheric satellites provide the first real-time imaging feed of Latin America and Oceania. This feed will help natural resources companies reduce their costs through automating operational decisions and cities become smarter through a collaborative intelligence marketplace. |
| FireFlight | South Australia, Australia | FireFlight created a new airborne fire mapping system that provides real-time fire maps, and post-fire hotspot maps to fire managers, fire agencies and other relevant stakeholders. The FireFlight system is cheap to deploy and easy to use. |
| Nano Spaces | South Australia, Australia | Nano Spaces aims to investigate nanofluidic devices that can be integrated on nanosatellites for precision positioning using safe, clean, and cost-effective fuels. |
| Lookinglass | South Australia, Australia | Lookinglass is an AI smart mirror and satellite-enabled platform that detects the symptoms and progression of degenerative health conditions like Parkinson's and dementia. |
Speaking at the announcement, Astrogate Labs Director and Co-Founder Nitish Kumar Singh says with the support from the Venture Catalyst Space program, the company is looking forward to establishing its presence in Australia, creating new partnerships and working on sub-systems technology development for 10Gbps laser communication terminals.
And COO of Lux Aerobot Canada, Katrina Albert says her company is keen to contribute to the growing South Australian space industry ecosystem.
"We believe Australia has the potential to be a strong leader in aerospace and we want to help build that future," Albert says.
Chief Executive Officer, FireFlight, Paul Dare says his aim is to launch the business into the public domain.
"With the help from Venture Catalyst Space, we aim to source significant investment and bring FireFlight to the global market."
Founder of Nano Spaces and UniSA researcher Dr Craig Priest says the Venture Catalyst Space program will bring invaluable benefits to the staff participating in the program.
"The program will give them new skills to help transition from their academic roles to better understand the business environment.
"We hope that the project will start a meaningful partnership with the SmartSat CRC and result in new applications of our technology."
Simon Cullen, CTO and Co-Founder of Lookinglass, believes his business will be able to further demonstrate the positive outcomes of using space assets in other industry sectors such as healthcare via the ICC's acceleration program.
"With the ICC's support, we will learn and create new approaches to maximise the opportunities being brought by these space assets," Cullen says.
Find out more about the program at https://icc.unisa.edu.au/programs/venture-catalyst-space/.
About UniSA's Innovation & Collaboration Centre (ICC)
Established in 2015, the Innovation & Collaboration Centre (ICC) is a strategic partnership between the University of South Australia, the South Australian Government and DXC Technology to support technology-based incubation and business growth in South Australia.
Enabled by world-class tech resources and tools, the Centre supports enterprises from idea generation to growth and expansion stages. The ICC also gives access to a wide range of expertise in a multidisciplinary environment, backed by industry-focused education and training to develop founders and grow businesses. icc.unisa.edu.au.
Media Contact: Georgia Minarelli email: georgia.minarelli@unisa.edu.au mobile: 0413 314 726