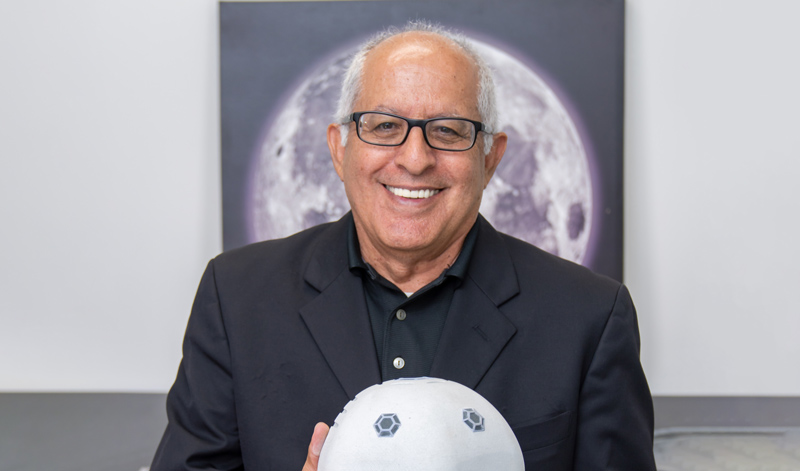 Sam Ximenes, Chief Executive Officer and Space Architect of Astroport Space Technologies
---
Texas-based space startup Astroport has partnered with the Andy Thomas Centre for Space Resources (ATCSR), which will see the research hub benefit from a coveted NASA contract.
The University of South Australia's Venture Catalyst startup Astroport Space Technologies has signed a Memorandum of Understanding & Research Collaboration Agreement with the University of Adelaide's Andy Thomas Centre for Space Resources (ATCSR) to further its unique work in space technology.
Astroport secured a NASA Small Business Technology Transfer contract (Program Phase 1) during its participation in the Innovation & Collaboration Centre's (ICC) Venture Catalyst Space program.
Now, the collaboration with ATCSR — with its expertise in space civil engineering processes — will allow Astroport to bolster its own ground-breaking work in creating interplanetary landing ports to facilitate safe spaceflights to the Moon, Mars and beyond.
It will also help support Astroport's work in extracting mineral resources from the lunar surface, colloquially known as moondust, to reduce dependency on Earth-sourced building material.
The pair has also submitted an additional proposal for a NASA research grant, which would allow ATCSR to expand its own research capability in space resource engineering and remote operations of robotic mobility platforms.
Astroport Founder and CEO Sam Ximenes says this incredible collaboration between Astroport and the ATCSR will further strengthen South Australia's space economy and highlight the agility of the state's space sector.
"We are delighted that our participation in the ICC Venture Catalyst space startup program enabled us to find the perfect collaboration partner in the ATCSR," Ximenes says.
"This will further a joint capability in the development of planetary infrastructure construction expertise.
"We are eager to become engaged with the Australian space market and envision our Astroport-Australia operations to foster a workforce of space civil engineers and technologists."
The Texas-based company is due to open an office in Adelaide, once international borders re-open.
Astroport is one of nine space startups involved in this year's Venture Catalyst Space program and has formally graduated alongside its cohort at the ICC's graduation ceremony on Wednesday the 24th of November.
Venture Catalyst Space receives funding through the state government's $1.5m Space Innovation Fund, which supports the growth of South Australia's space industry.
The program has drawn international and interstate startups to South Australia while also supporting local enterprises.
Premier of South Australia Steven Marshall has congratulated this year's graduating cohort whose entrepreneurial success is strengthening the state's vibrant space ecosystem.
"Venture Catalyst Space is a proven incubator program and an exciting springboard for high calibre, early-stage space startups," Premier Marshall says.
"Helping to nurture and grow remarkable advances in NewSpace innovation, the program is building critical capability, growing investment and know-how in the space economy and supporting our mission to create a thriving and enduring South Australian space sector."
ICC Director Jasmine Vreugdenburg says Venture Catalyst Space has cemented South Australia's reputation as a world-leader in space innovation.
"Not only have we attracted incredible international and interstate startups here, but we've been able to help these startups create more than 50 jobs in South Australia, and this continues to grow" Vreugdenburg says.
"Two of this year's cohort are setting up offices in Adelaide and one from last year's cohort is already established here.
"Since the program began in 2018, our space startups have collectively raised more than $11 million in additional investment and grants
The Venture Catalyst Space program is a testimony to what can be achieved here in South Australia, and we are beyond excited to onboard our newest cohort of space startups in 2022."
Applications are open now for the ICC's 2022 Venture Catalyst Space program. International, interstate, and local startups are encouraged to apply.