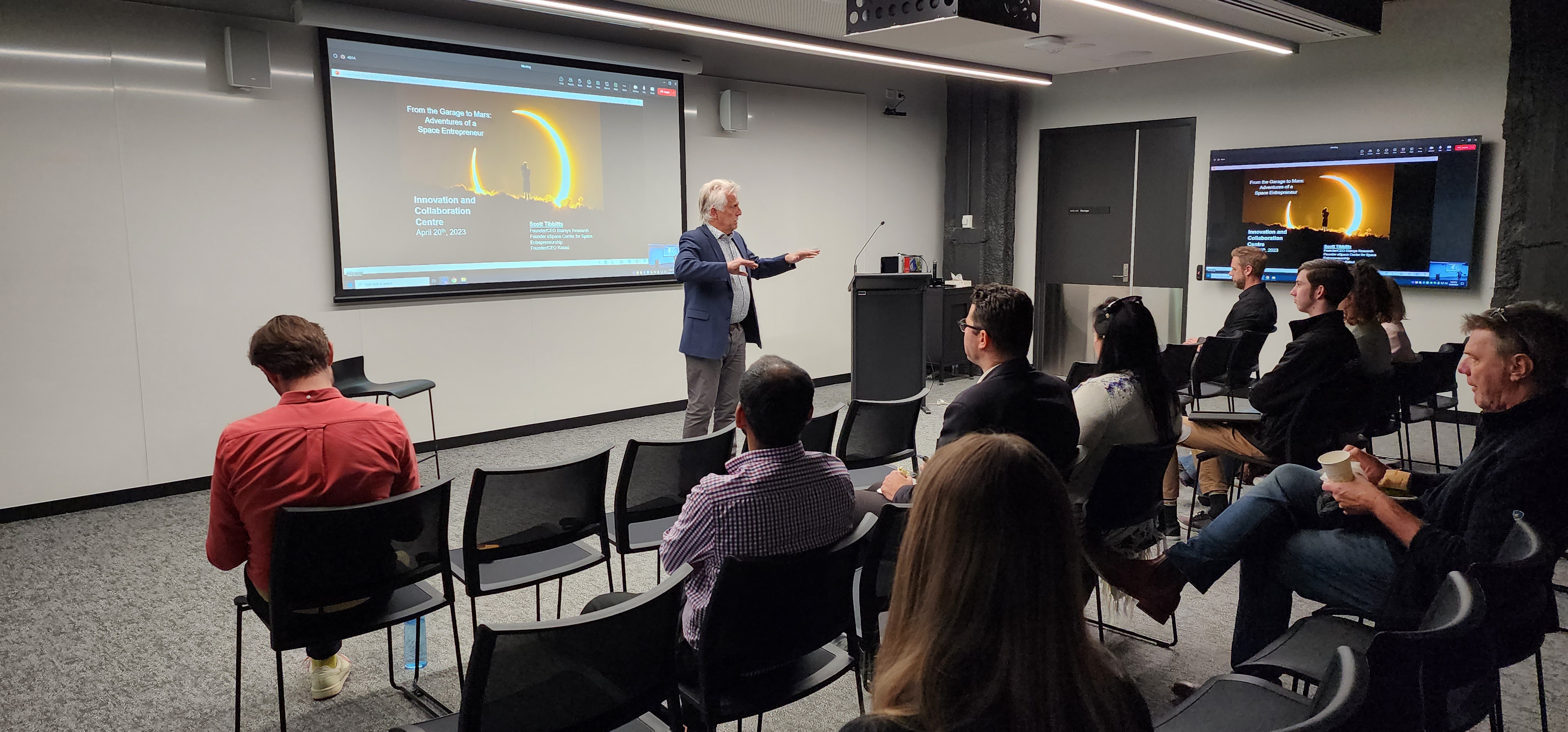 Scott Tibbitts presenting his lunchtime series seminar - From garage to Mars.
Credit: Innovation & Collaboration Centre
---
In April 2023 the ICC was very fortunate to welcome Scott Tibbitts, all the way from Boulder, Colorado to give a well-received presentation on his experiences as a space entrepreneur.
His story is an inspiring one, and our Venture Catalyst Space startups related to the challenges, the highs and the lows of Scott's adventure starting in a humble garage and going all the way to Mars.
Tibbitts is the founder of multiple businesses including Starsys Research, eSpace: The Center for Space Entrepreneurship, and Katasi Distracted Driving Solutions.
After graduating in chemical engineering from the University of Wisconsin in 1981, he moved to Boulder, Colorado. 
In 1987, he founded his first business, Starsys Research Corporation, to bring a promising thermal actuator technology to the spacecraft industry. Starsys became the world's leading provider of mechanisms for spacecraft, with 150 employees and a total of 3,000 mechanisms flown on spacecraft with zero failures.
In 2008, the company was acquired by Sierra Nevada Corporation, now under a $1B+ contract to NASA to build Dreamchaser, a replacement to the space shuttle.
Back in 1988, Scott was also the recipient of the "Esprit Entrepreneur of Distinction" award and is the holder of 16 patents in technologies as diverse as medical devices, spacecraft products and telecom.
Since delivering his presentation at the ICC, Tibbitts has continued to guide our Venture Catalyst Space startups with one-on-one mentoring sessions delivered remotely with Scott now back in Colorado.
In the last few months, it has become clear that our space startups can continue to learn from Tibbitts' impressive and extensive career in the space industry.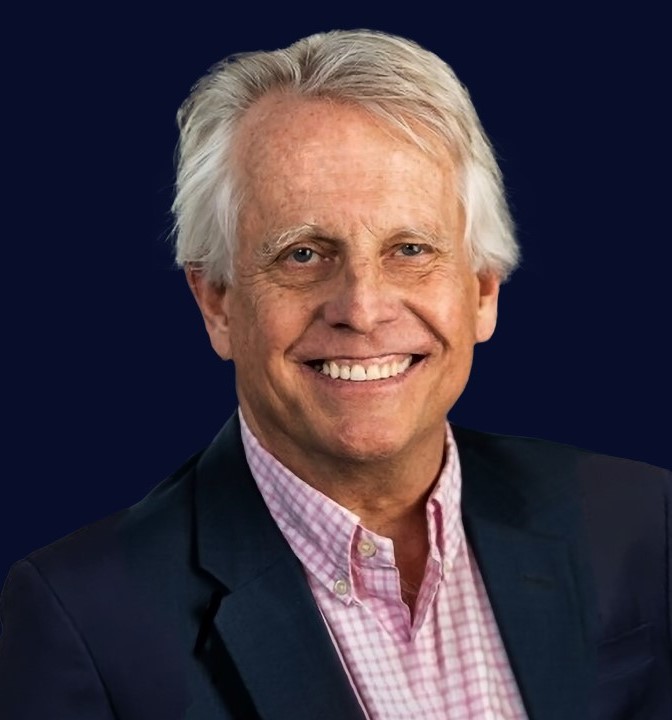 Scott has been inspired by the ideas and progress of the Venture Catalyst Space startups and they are benefiting immensely from his experience, advice, and connections in Australia and in the US.
Scott's involvement with the ICC has given our startups a global perspective and helped bridge the gap between being a pre-revenue startup and a fully commercialised company in the space sector, as well as providing introductions to potential US investors and customers.
For this reason, the ICC is very pleased that Scott has agreed to become an ICC Space Entrepreneurship Mentor.
Deputy Director of Business Incubation, Craig Jones, said it is a wonderful appointment for the ICC.
"This is fantastic news for our Venture Catalyst Space startups and the future of our space program," he says.
"It shows commitment to the growth of the program and is just the beginning of the ICC's push to focus on full commercialisation as the next step in supporting our early startups in the space sector."
The ICC and all of the space startups are looking forward to a long and fruitful relationship with Scott as the ICC continues to support its startups and the growth of the space sector in South Australia.
Tibbitt Tidbits:
In a prior life, he was a ski bum in Jackson Hole, Wyoming
He aspires to perform stand-up comedy
His children's names have flown on spacecraft to four planets
He has flown on NASA's Vomit Comet zero gravity plane three times
His father, Ted Tibbitts, was the first scientist to grow potatoes in space
He has a killer recipe for liquid nitrogen ice cream.