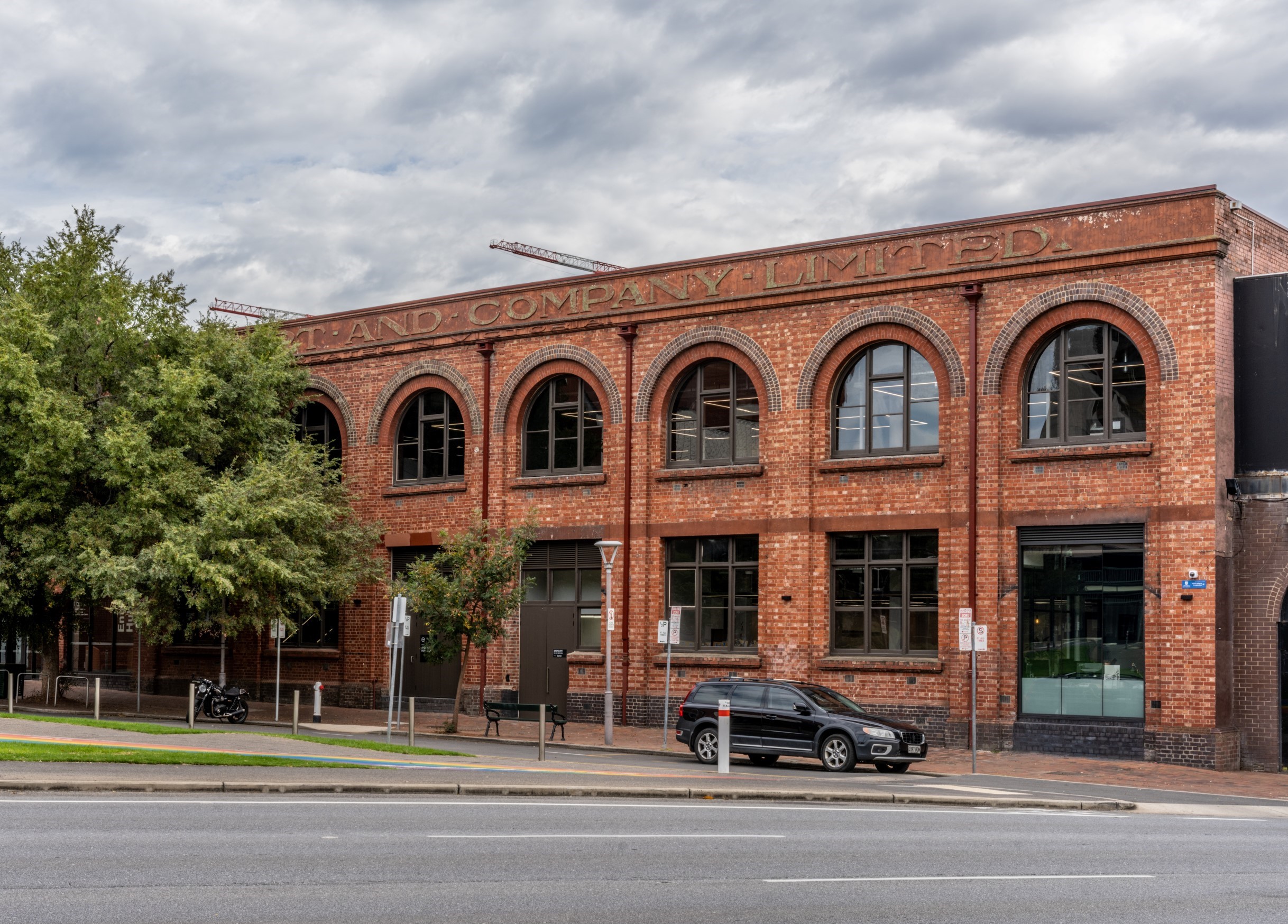 University of South Australia's Enterprise Hub.
Credit: Enterprise Hub
---
This year the Innovation & Collaboration Centre team settled into its new home at UniSA's Enterprise Hub, on the north-western corner of Light Square.
This newly refurbished collaborative space is a far cry from its heydays as the raucous Le Rox nightclub, or the ghoulish Night Train Theatre restaurant. The Enterprise Hub has been designed to help businesses thrive by connecting them to UniSA's renowned researchers and knowledge experts to help solve complex challenges and produce mutually beneficial outcomes for industry and society, making it the perfect location for the ICC.
As part of our programs, participants receive 6 – 12 months of free workspace within the Enterprise Hub. Located within this start-of-the-art enterprise and innovation facility, the ICC provides startups with access to university facilities such as workshop areas, laboratories, 3D printing facilities, meeting rooms and co-working spaces.
The ICC are proud to be able to offer startups access to these new facilities and a collaborative working space to assist them during their incubation period. With more workspaces available, hot desks facilities can be hired by individuals outside of our programs. To find out more contact, iccadmin@unisa.edu.au
Interesting facts about the Enterprise Hub
The building has been home to pubs, pawnbrokers and prostitutes.
With its detailed brickwork and repetitive arching, Claridge's two-storey warehouse opened on Monday 1 April 1912. An enthusiastic newsman at The Register reported the building's "roominess enabled the produce to be shown to the best advantage, and the arrangements made for the convenience of buyers were favourably commented upon".
That "roominess" amounted to almost 2000 square metres of open floor space, equivalent to more than seven tennis courts, in which to do business.
Goldsbrough Mort Skin Stores took ownership until 1965, trading in the pelts of everything from kangaroos and cats to wallabies and water rats. The company's name remains imprinted across the top of the Light Square frontage.
By 1975, it was reborn as the home of The Netherlands Society of SA, with its annual Great Tulip Ball and Miss Tulip South Australia contest. One-time society president Hetty Verolme scoured Holland for a traditional street organ to bring a touch of her homeland to Adelaide, and told The Australian Women's Weekly in 1978: "Five minutes after the organ started playing, everyone was waltzing in Light Square".
The venue was reincarnated as a disco venue in the 1980s. First it was Da Vinci's International, complete with the birdcage entrance and posh booths divided by frosted glass partitions.
Then 1990s nightclub Le Rox and top international rock acts including Nick Cave & The Bad Seeds, The Pogues and The Velvet Underground.
In the mid 1990s it became the Night Train transforming the premises yet again into an award-winning comedy theatre restaurant.
By the time UniSA acquired the property in 2011, the building had been listed on the South Australian Heritage Register as of place of Local Heritage (City Significance) and lauded by the City of Adelaide as "a good example of the type of imposing industrial buildings which were constructed on the periphery of the central business area".
The red brick and vast arch windows have remained, but we have also incorporated iconic relics into the final design. "We've kept the huge 'bird cage' that adorned the entrance to the nightclub, the eccentric vampire artwork from the 90's Night Train scene and the original loading beam from the building's construction in 1912."
Take a tour around the ICC's new home