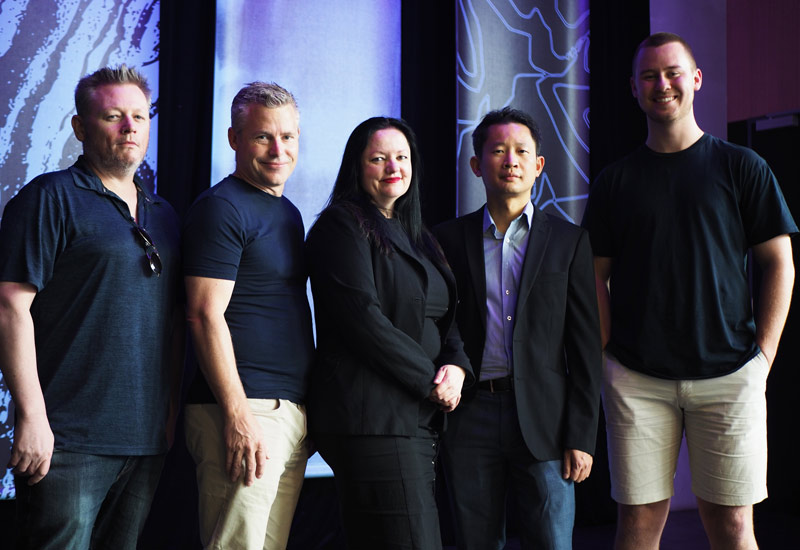 Ash Simmonds, Derek James and Kelly Yeoh of Blue Dwarf Space; Yee Wei Law of Mesh in Space, Austin Lovell of Up&Up at the University of South Australia.
Credit: Innovation & Collaboration Centre
---
Space companies from as far as India and Germany will make their way to South Australia, to be part of the state's coveted Venture Catalyst Space Program.
The program is a pre-eminent accelerator delivered by the University of South Australia's Innovation & Collaboration Centre (ICC) and funded by the State Government's $1.5m Space Innovation Fund.
Thanks to the support provided through the program, the Venture Catalyst Space alumni have collectively raised $11 million in additional investment and grants while creating 90 space jobs.
ICC Director Jasmine Vreugdenburg says 10 companies will join the 6-month program this year.
"Three international startups will participate in our program, while three will come from interstate," Vreugdenburg says.
"We also have fantastic representation from home-grown South Australian companies.
"Our collection of new startups will bring unique business ideas and revolutionary solutions to South Australia's space ecosystem."
"From using satellites to combat overfishing, to designing technology to grow plants in space, to even creating humanoid robots to perform tasks in zero-gravity, this cohort has a lot in store for us."
Premier Steven Marshall says this year's cohort joins an impressive alumni of companies, all transforming cutting-edge ideas into sustainable space businesses.
"South Australia is a magnet for space start-ups with our collaborative space ecosystem and programs like Venture Catalyst Space growing companies that achieve long-term success on the national and international space stage," Premier Marshall says.
"It's exciting to see such strong and diverse representation from local, interstate and international space entrepreneurs who will benefit from the program's strong culture that enables start-ups to scale-up successfully.
"We are committed to growing investment and know-how in the space economy and welcome this year's cohort on our mission to grow a thriving and enduring South Australian space sector."
2022 participant and CEO of Indian-based company Grahaa Space, Ramesh Venkatesan, says he is excited to fast track his company within Australia's own space ecosystem.
"Due to Covid lockdowns on and off in various parts of the world, our plans have been slightly delayed during the last two years…now that lockdowns have been relaxed around the world, we intend to speed up our activities and catch up as fast as we can," Venkatesan says.
"We believe that by being part of the Australian program, we can fast track our process of setting up base, work with the international communities and strategically cater to the Asia Pacific and Australian-New Zealand regions much more efficiently."
ICC Director Jasmine Vreugdenburg says she is pleased to finally welcome back overseas startups after 2021, when the program was offered virtually to those who couldn't enter Australia.
"The program was still a huge success, with two of our 2021 overseas participants now in the process of opening offices in Adelaide," she says.
"However, to be able to have these startups come to Adelaide and actually experience our burgeoning space sector firsthand is a wonderful thing."
Venture Catalyst Space began in 2018 when the Innovation & Collaboration Centre was awarded $1.5 million to support the growth of South Australia's space industry by providing early-stage technology-based space startups with the skills required to create a globally scalable enterprise.
This year's newest cohort joins the ranks of 19 former startup participants, all of whom have gone on to make valuable contributions to South Australia's space sector.
Find out more about the program at https://icc.unisa.edu.au/programs/venture-catalyst-space/
Innovation & Collaboration Centre's 2022 Venture Catalyst Space cohort
ANT61
New South Wales
ANT61 is developing highly dexterous robust autonomous robots who can collaborate with each other and humans and can perform high level tasks applying human level motor skills in space.
Blue Dwarf Space
South Australia
An automated platform for applications relating to space activities in Australia or by Australians.
Espy Ocean
South Australia
Espy is providing early detection of mid to large size poaching vessels to Fisheries Companies associations worldwide to combat poaching.
Gaia Project Australia Pty Ltd
Victoria
Gaia Project Australia Pty Ltd have designed a new modular channel system increasing the number of plants that can grow in any space by 40% which will be used to support growing plants in space.
Grahaa Space
India
Grahaa Space is working on designing developing and launching an advanced constellation of earth observation nano satellites to be launched into LEO which will work in sync to stream near real-time high-resolution videos of any specific location on earth.
Mesh in Space
South Australia
Mesh in Space is designing and building mission ready secure networking solutions for satellite constellations.
Orbital Blue
Dubai
Orbital Blue is developing an AI powered SSA company providing predictive mission critical intelligence to the space industry.
Perspective
Berlin
Perspective is developing on-board AI capability that is optimally coupled with hardware using API supporting a broad range of vision-based space applications.
QL Space
Perth
QL Space is developing a multi-sensor LEO cube sat with AI capabilities to support mineral applications in the mining industry.
Up&Up
South Australia
Up&Up launch products to the edge of space and create out of this world ad creative for viral ad campaigns.
The 2022 participants will start the 6-month accelerator program on the 1st of March, with a four-week induction featuring workshops from leading industry experts.
Media kits
Information & images from space alumni