Rachel Kidwell is pinpointing success
August 29 2016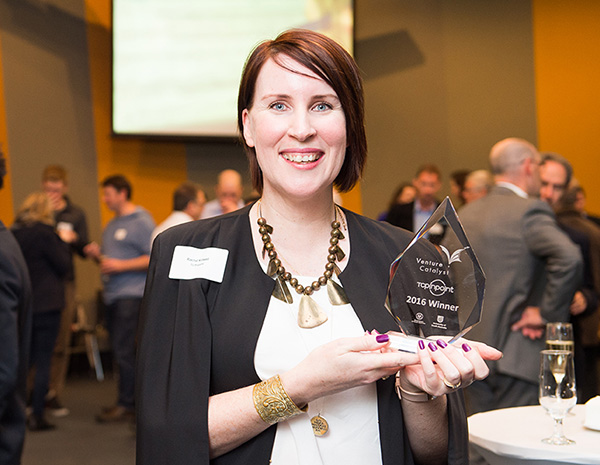 Entrepreneur, Rachel Kidwell, launched her successful company during the Global Financial Crisis (GFC). Although an incredibly risky time for any business owner, her acumen and intellect ensured its success with clients including retail giants Woolworths, Precision Group, Pacific Group and Blackstone. Rachel and her new business idea, TCPinpoint, was recognised in early 2016 by UniSA with a $50,000 grant through the Venture Catalyst Scheme to kick-start her new business concept into fruition.
When the GFC hit in 2009, Rachel was prompted to start her own business, Kidwell Coordination, which provided tenancy coordination services to Landlords. From the outside looking in, Rachel understands how people would think starting a business during the GFC would be a mistake.
"Some would say it was crazy timing, but in retrospect, financial uncertainty brings opportunity," Rachel says.
Despite the enviable clientele, Rachel noticed consistent problems being experienced by landlords and as such her latest and most innovate idea was born – TCPinpoint. Rachel envisions TCPinpoint as an automated cloud based workflow system to assist landlords deliver shops in shopping centres in a more efficient manner – saving both time and money. There are upwards of 20 consultants involved in the delivery of any one shop – before the shopfitter starts on site – and no tool to bring them all together. TCPinpoint will provide a platform for collaboration, calls to action for all required tasks, increased reporting capabilities and better document control.
"Whilst the idea for TCPinpoint was strong at that point (2014) I was also very busy delivering major retail projects through my company," Rachel says.
"When Venture Catalyst was advertised again for the 2016 round, the timing was right and I had progressed the idea much further and knew what it would cost to get started."
Now, a few months on after winning Venture Catalyst, TCPinpoint has already hit the ground running.
"The $50,000 Grant has been committed to the engagement of a software designer to develop TCPinpoint.
"We are working towards completion of the minimum viable product (MVP) in October and then a Pilot Program will be undertaken by two local shopping centres.
"We are aiming to officially launch the product in February 2017 and from there it's simple; grow, learn, repeat."
When asked about global takeover, Rachel wasn't shy about her future goals.
"Our mission is to be the best tenancy delivery software in the world."
But this doesn't mean TCPinpoint will be leaving SA anytime soon.
"Our heart will always belong to South Australia and our intention is to keep our head office in Adelaide."
With a boom in the digital age, Rachel only sees more positive outcomes for TCPinpoint.
"Increased efficiencies and connectivity thanks to cloud based systems, better internet access and the fluidity of work and life enables us to create a flexible, productive, innovative company – and to help our clients do the same."
Whilst Rachel now hopes to inspire other start-ups to follow their dreams, she also has her own idols for inspiration.
"I'm inspired by business owners building great companies - companies are made up of people after all.
"Great leadership inspires me such as Richard Branson, Naomi Simpson, Janine Allis, Oprah."
Commitment, willingness to ride the ups and downs, and most importantly having belief in oneself, are the key factors Rachel attributes to being a successful start-up.
"If you don't start now, in five years' time you'll still be doing the same thing instead of being the owner of a company that is five years old," she said.
"Surround yourself with 'can do' and supportive people, be innovative and take risks.
"Don't forget to enjoy the ride and always network, network, network."
Venture Catalyst is now open for all current and recently graduated (3 years) students who hope to achieve their start-up dreams. For more information, please visit icc.unisa.edu.au/about/