The team behind Teamgage
May 3 2017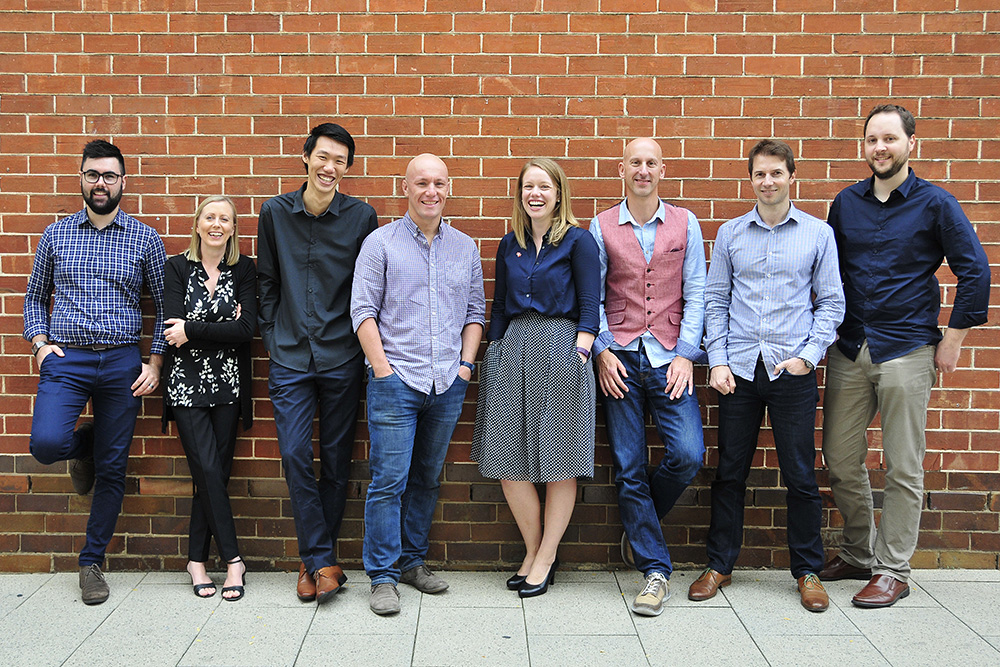 Intrinsically linked to business success, a positive company culture is an undeniable asset. Not only does it help to attract and retain great employees, it also encourages continuous improvement, leading to innovation and business growth.
Yet monitoring corporate culture is complex. As a dynamic entity, it shifts with the business, responding to internal and external influences. And being able to track these subtle movements would be of great benefit for both employers and employees alike.
This is where new Adelaide technology-start up, Teamgage, steps up. Recognising the significance of corporate culture for business success, Teamgage has developed a new web-based app that lets staff submit real-time feedback on various metrics. The immediacy of the feedback empowers employers to manage these concerns—or identify key achievements—and respond or guide business improvements in a far more efficient and effective manner than ever before.
The online solution uses a unique 20 second interface and machine learning to help organisations embed a culture of continuous improvement. Its design not only identifies and removes barriers to performance, but also actively engages all team members to be part of the solution. It allows employees to make evidence-based decisions, and creates an environment in which everyone can do their best work.
Teamgage founders Ben (UniSA Alumni) and Noelle Smit explain that Teamgage offers actionable and elegant workplace analytics in real-time for companies that want to make evidence-based decisions.
"This technology helps energise and motivate teams to do their best work," says Ben Smit.
"It offers a low-touch experience for both staff and managers, removing the need for painful, long-winded surveys.
"Ultimately, it saves time, identifies engagement opportunities and removes barriers."
Ben and Noelle Smit explain that the concept for their business started in 2013 when they were working on their software UniOne, a service product used in universities around Australia to help manage student activities such as participation in clubs and events.
"Having experienced high turnover in a workplace firsthand, I kept thinking about the impact of culture and how it could cause people to leave," said Noelle Smit.
"Being able to help a business create a culture of continuous improvement was something we thought we could address, so we started looking at how we could use technology to solve this very real problem."
After a trip to San Francisco to meet with some Australian entrepreneurs including Patrick Llewellyn CEO at 99 Designs and Gower Smith Founder of Zoom Systems, Ben and Noelle Smit left inspired to start Teamgage.
Teamgage went through many iterations and beta trials over the next few years and after a rocky journey of harsh failures and steep learning, they launched commercially in 2016 just prior to moving into the UniSA-based Innovation and Collaboration Centre (ICC).
"Being located in the ICC, we have had access to world class mentors whom we meet with on a regular basis," Noelle Smit says.
"We're also exposed to business leaders and potential clients through the range of ICC events and this expands our network and possible client base."
Since becoming residents of the ICC, Teamgage have grown from three to eight full-time staff members in over the past year, and now have clients around Australia including Bendigo Bank, Bank of Queensland, OZ Minerals, University of South Australia, ACH Group, the Royal Children's Hospital, Microsoft, as well as federal and state governments plus others in the technology, insurance, finance and manufacturing sectors.
Looking ahead, Teamgage have plans to significantly expand their client base within Australia and into the Asia/Pacific region throughout the second half of 2017.
They are currently investing in their technology to leverage artificial intelligence and pattern recognition to improve insights for Teamgage clients. Teamgage are also exploring investment opportunities from venture capital firms to accelerate their growth.
For more information on Teamgage, please visit: teamgage.com
Teamgage contact: Ben Smit 0402 881 237 ben@code360.com.au