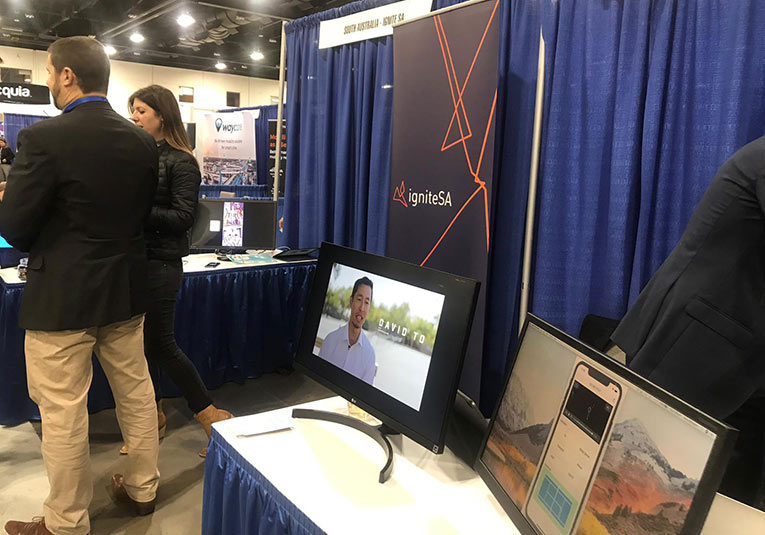 The ignite SA booth at the Smart Cities Connect Conference & Expo in Denver, Colorado.
---
Three local companies travelled to Denver in early April to demonstrate the growing capabilities of South Australia's gigcity infrastructure as part of Ignite SA.
Part of US Ignite's Smart Gigabit Communities program, Ignite SA is a partnership between the State Government and the University of South Australia to support entrepreneurs, developers and startups.
South Australia is the first international city to join the growing US Ignite Smart Gigabit Communities program, creating new opportunities for innovative businesses to collaborate and share information with 25 other US Ignite communities.
The communities are solving modern-day problems by developing innovative applications that utilise gigcity infrastructure.
The 2019 US Ignite Application Summit and Smart Cities Connect Conference & Expo was held in Denver, Colorado from April 1-4.
Ignite SA took three of their supported applications to the conference; Athlete's AI, a company combining computer vision and machine learning for athletes to deliver distinct mechanical advantages over competitors; Cipher by Sandpit, a visitor experience platform for museums, galleries and cultural institutions and; Kiratech, an IT and software development company putting recycled car parts online.
Sandpit's Creative Director Sam Haren presented at the conference after winning Ignite SA's Preserve Challenge with the South Australian Museum.
Part of the official program, Sam demonstrated how their application Cipher can change the game for museum's and the like by giving virtual access to their collections from smartphones to the 4000 delegates.
Ignite SA's Community Leader Jasmine Vreugdenburg said Adelaide was the only international city represented and delegates were keen to hear the Australian perspective.
"Those from the US were extremely interested in the innovations and applications coming from South Australia.
"Sam (Cipher) was approached by several large companies who were interested in exploring and developing the Cipher application after his demonstration.
"The other two applications Athlete's AI and Kiratech have also both signed agreements with the City of Denver to join their City2City Landing Pad Program following the conference."
She adds that the other US cities were keen to understand about Adelaide's unique approach to gigabit infrastructure through SABRENet.
The driving force behind Ignite SA is the Department of Industry and Skills in conjunction with UniSA, in particular the Information Strategy and Technology Services (ISTS) unit and the Innovation & Collaboration Centre.
The next Ignite SA challenge will be announced soon.
Media contact: Georgia Minarelli
Email Georgia.Minarelli@unisa.edu.au
mobile: 0413 314 726