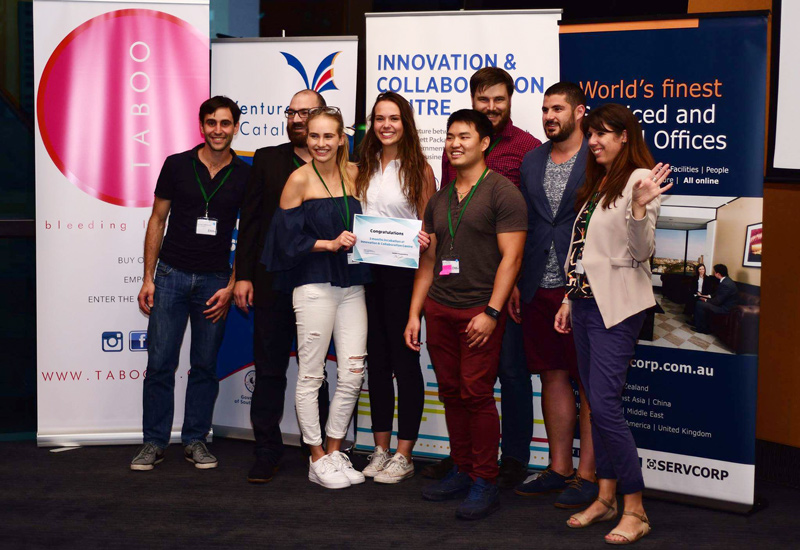 Winners of the 2017 Techstars Startup Weekend 'TABOO' with ICC Associate Director Jasmine Vreugdenburg (Right).
---
The A pair of University Local Adelaide startup and social enterprise TABOO have recently launched their social enterprise after winning the Techstars Startup Weekend 2017 hosted by UniSA's Innovation & Collaboration Centre (ICC).
Co-founders Eloise Hall and Isobel Marshall are calling for budding Adelaide entrepreneurs to join this year's Startup Weekend event, which helped kick start their business – a social enterprise which helps fight period poverty.
Isobel Marshall says the event was pivotal in their journey.
"Startup Weekend was right at the start of our journey and it certainly equipped us with the encouragement and support we needed to commit time and energy into our business idea," she says.
"The competition introduced us to an amazing team of volunteers - all members contributing really valuable skills and ideas to our very new and growing business. It also gave us some incredible coverage and a fantastic platform to share our vision.
"We received some very valuable business tips and gained some incredible mentors that helped us navigate the startup phase."
Eloise and Isobel had an idea in 2016, just before they left high school, to sell organic cotton pads and tampons to Australians while also fighting 'period poverty' with 100 per cent of their profits.
The founders say the company isn't just a brand, but a movement of people committed to practically and sustainably empowering women overseas, so their menstrual cycle doesn't prevent them from participating in school, work or in the community.
With the ICC running Startup Weekend again on November 15-17, Marshall encourages students, entrepreneurs or anyone with an idea to give it a go.
"The competition really throws you into an intensive, challenging and rewarding weekend," she says.
"The weekend itself helped us to solidify our business model, taught us how to prioritise all the never-ending tasks involved with a business, but most of all taught us to work with and lead a team towards a shared vision.
"We feel so fortunate to have been involved with the incredible initiative that is Startup Weekend. We entered at the very start of our journey and recognised the key role it played in encouraging us to go for it and commit to our idea!"
The team are currently shipping orders to Australian customers and working to get their products stocked in independent grocery stores across the state and interstate.
Once they make some profit, the team plans to donate it to OneGirl, an organisation ensuring girls are supported and provided for so they can continue their everyday activities and not be burdened by their cycle.
"The ultimate goal is to ensure that girls and women are educated, employed and equipped with everything they need to be financially independent and reach their full potential," Isobel says.
Techstars Startup Weekend Adelaide will kick off SouthStart 2019. Tickets are available here.
About Techstars Startup Weekend Adelaide
In partnership with Google for Startups, Techstars Startup Weekend is a 54-hour competition designed to bring ideas together with teams to formulate an early concept and business model, over the space of a weekend. The event concludes with a pitch from each team for the winning place.
In just 54 hours, participants will experience the highs, lows, fun, and pressure that make up life as a startup. As you learn how to create a real company, participants meet the very best mentors, investors, cofounders, and sponsors who are ready to help get companies started.
Media contact: Georgia Minarelli email Georgia.Minarelli@unisa.edu.au mobile: 0413 314 726