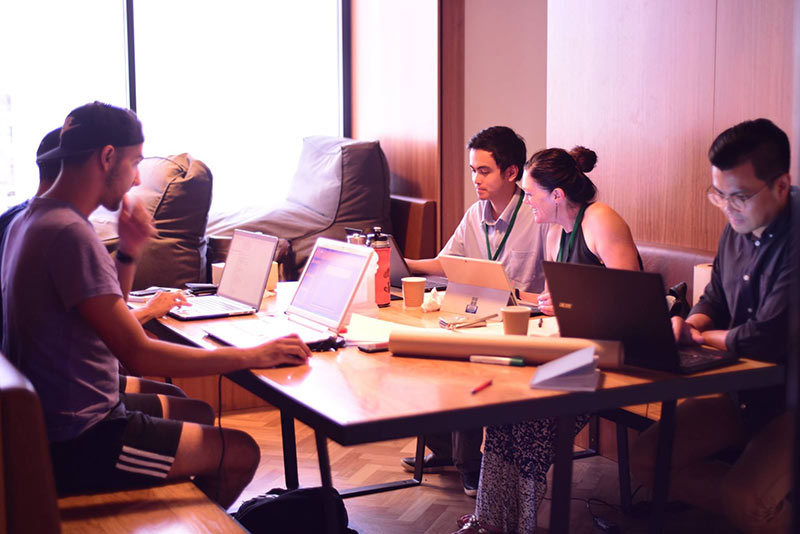 The Innovation & Collaboration Centre has previously been a host for Techstars Startup Weekend.
---
One weekend, 40 aspiring entrepreneurs and 54 hours of expert mentor support, may just be a recipe for business success, as the University of South Australia fires up its Techstars Startup Weekend in Adelaide.
Hosted by UniSA startup incubator, the Innovation & Collaboration Centre (ICC), Techstars Startup Weekend will be launched on Friday November 15 by Minister for Innovation and Skills, David Pisoni, and conclude Sunday evening with three winning teams securing ongoing support to launch their businesses.
Across the weekend, participants receive one-on-one feedback from some of South Australia's best mentors - people who have experienced first-hand the successes and set-backs of launching a startup.
UniSA's ICC Entrepreneur in Residence, Terry Gold says the event has unique value for the participants because it brings them together with a like-minded cohort of innovators.
"At Startup Weekend, we host people of different abilities and backgrounds to learn, adapt and test new ideas in an atmosphere that is both encouraging and good fun," he says.
"You don't need to already be a business person to take part in Startup weekend, you just need enthusiasm, curiosity and a desire to learn."
To celebrate its recent partnership with the University of South Australia and to support economic development in South Australia, Accenture will be supporting the event by running a prototype workshop to help participants turn their ideas into reality.
Teams will pitch for a chance to win an hour-long intellectual Property Session with Madderns as well as six-months of free hot desking at the ICC including free access to events, seminars and networking events held by the ICC and the opportunity to have a one on one meeting with each the three ICC Entrepreneurs in Residence; Kirk Drage, Terry Gold and Industry Professor Richard Turner.
Winning teams will receive a range of support prizes to help them kickstart their business.
Platinum sponsors of the event and nanosatellite technology innovators, Myriota will be awarding one team the chance to work alongside its highly skilled team in 2020 to further develop their idea.
A lunch meeting with Terry Gold, former founding CEO of software company Gold Systems, will be the reward for the team that wins the 'Spirit of Startup Weekend' Award.
A panel of experienced judges including former CEO of ZEN Energy, Richard Turner and CEO and Founder of Adelaide tech startup, Zuus Workforce, Racheal Skinner, will select the winners based on validation, execution and design, and their business model.
Startup Weekend kicks off the southstart conference, Australia's human-first technology festival.
Since 2007, Techstars Startup Weekend has taken place in more than 150 countries with more than 200,000 participants bringing their product and business ideas to the next level and joining a huge international network of entrepreneurs.
Local Adelaide startup and social enterprise TABOO recently launched its social enterprise after winning the Techstars Startup Weekend in 2017.
To learn more visit http://www.techstars.com/startup-weekend/
Additional information:
Startup Weekend is generously supported by Myriota, the City of Adelaide, FIXE, Stone & Chalk, Accenture, the University of South Australia and Madderns.
Platinum Sponsor Myriota, a UniSA spin-out and key communications network for the global IoT sector, will loan its Myriota Develop Toolkits to teams over the weekend, allowing them to unlock their potential with access to remote IoT.
The panel of judges includes:
Rachael Skinner, CEO & Founder, Zuus Workforce
Ben Tulloch, Managing Director, Accenture
Richard Turner, Industry Professor of Practice and Entrepreneur in Residence at the University of South Australia's Business School.
Dr David Haley, Co-founder & CTO, Myriota.
Media contacts:
Miranda Hurren office (08) 8302 0861 mobile: +61 408 678 326 email: Miranda.Hurren@unisa.edu.au
Michèle Nardelli: phone: +61 418 823 673 or +61 8 8302 0966 email: michele.nardelli@unisa.edu.au