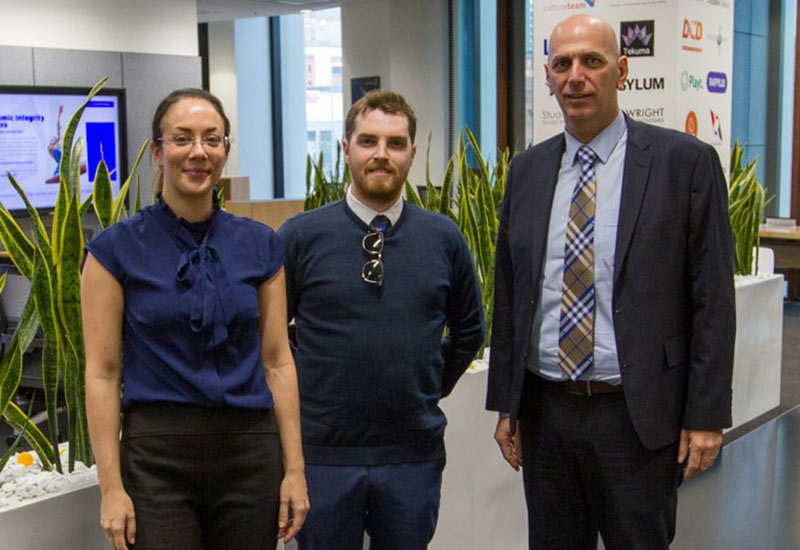 Winners of the 2019 Retail Game-Changer Challenge, Carolin Reichherzer and Mitchell Norman with Precison Group's Chief Technology Officer Roger Hatem.
---
A pair of University of South Australia (UniSA) Computer Science PhD students have taken out the 2019 Retail Game-Changer Challenge to disrupt traditional retail shopping experiences with their app, ShopTrotter, and develop the concept with commercial property company, Precision Group.
Carolin Reichherzer and Mitchell Norman, two University of South Australia (UniSA) Computer Science students, have won the 2019 Retail Game Changer Challenge with their app concept ShopTrotter, an application designed to encourage shoppers to meet their fitness goals while exploring shopping centres and unlocking surprises on their smartphones, smartwatches and wearable tracking devices.
The idea came from Carolin's observation of how seriously her otherwise technology agnostic mother took her fitness tracker to reach her daily 10,000 steps and often went to the shopping centre to reach this goal.
"ShopTrotter is designed to motivate and reward people for the exploration and the exercise they get while shopping. The aim is to turn the shopping centre into an activity space, where frequent visits and activity within are rewarded," Carolin says.
"It builds around the idea that visitors naturally engage in a lot of walking during their visits to shopping centres. We envisioned supporting recent trends of tracking your steps to reach fitness goals with your smartphone or fitness tracker.
"The addictive nature of being rewarded for 'feel-good' goals such as healthy living combined with the natural time spent at shopping centres is a gap in the market that we think has not been filled."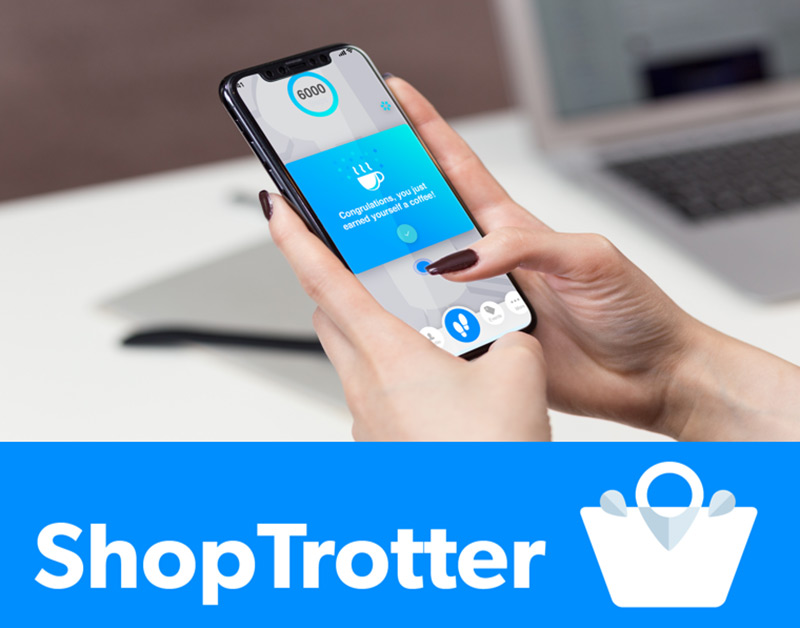 The proposed ShopTrotter application interface. The user reaches their goal and gets notified.
---
The Retail Game-Changer Challenge, spearheaded by Precision Group's CEO Shaun Bonétt and CTO Roger Hatem, is now in its second year and gives local entrepreneurs the chance to revolutionise the shopping experience for consumers and bridge the divide between digital and brick-and-mortar retailers.
The pair and the expert UniSA panel – made up of Associate Professor Stewart Von Itzstein, Associate Head: Academic Programs at the School of Information Technology and Mathematical Sciences, Associate Professor Svetlana Bogomolova, Senior Marketing Scientist at the Ehrenberg-Bass Institute for Marketing Science, and Jasmine Vreugdenburg, Associate Director at Innovation & Collaboration Centre – were tasked with the difficult decision.
Precision's Roger Hatem says the panel was looking for an innovative and unique idea.
"Technology usually disrupts customers' behaviour; ShopTrotter instead compliments what customers are already doing. It was the winner because of its simplicity and what promises to be an easy adaptation for customers," he says.
"We often look overseas for the next big idea when it could very well be found in Australia. By fostering new talent in the technology and marketing space, it allows talent to grow and ideas to manifest in our own country.
"It is an exciting opportunity for our Precision team to work with talented young minds that are the product of a new generation. We are looking forward to further developing, testing and implementing this feature with ShopTrotter within the practicalities of a live shopping centre environment."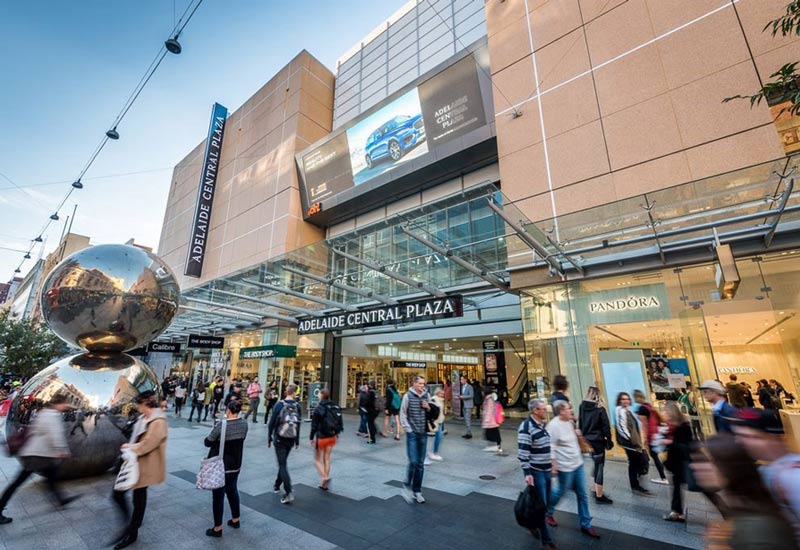 One of Precision's major retail properties, Adelaide Central Plaza in Rundle Mall.
---
Precision Group is one of Australia and New Zealand's top privately owned property investment and development companies. Founded by UniSA graduate Shaun Bonétt in 1994, just two years after graduation, the Group now owns major shopping precincts, high profile and historical commercial sites and hotels across Australia and New Zealand, including the Adelaide Central Plaza.
Following their win, Carolin and Mitchell will now utilise their $25,000 winnings to further develop ShopTrotter in conjunction with Precision Group and their unmatched knowledge in the commercial retail space, while also enabling better insights into customers, their behaviours and shopping habits for the company.
"It is a fantastic feeling when people believe in your idea, one you've invested time and effort into, and offer support to bring it closer to reality," Carolin says.
"We are beyond excited about having the opportunity to see our idea come to life and apply it to the real world together with Precision."