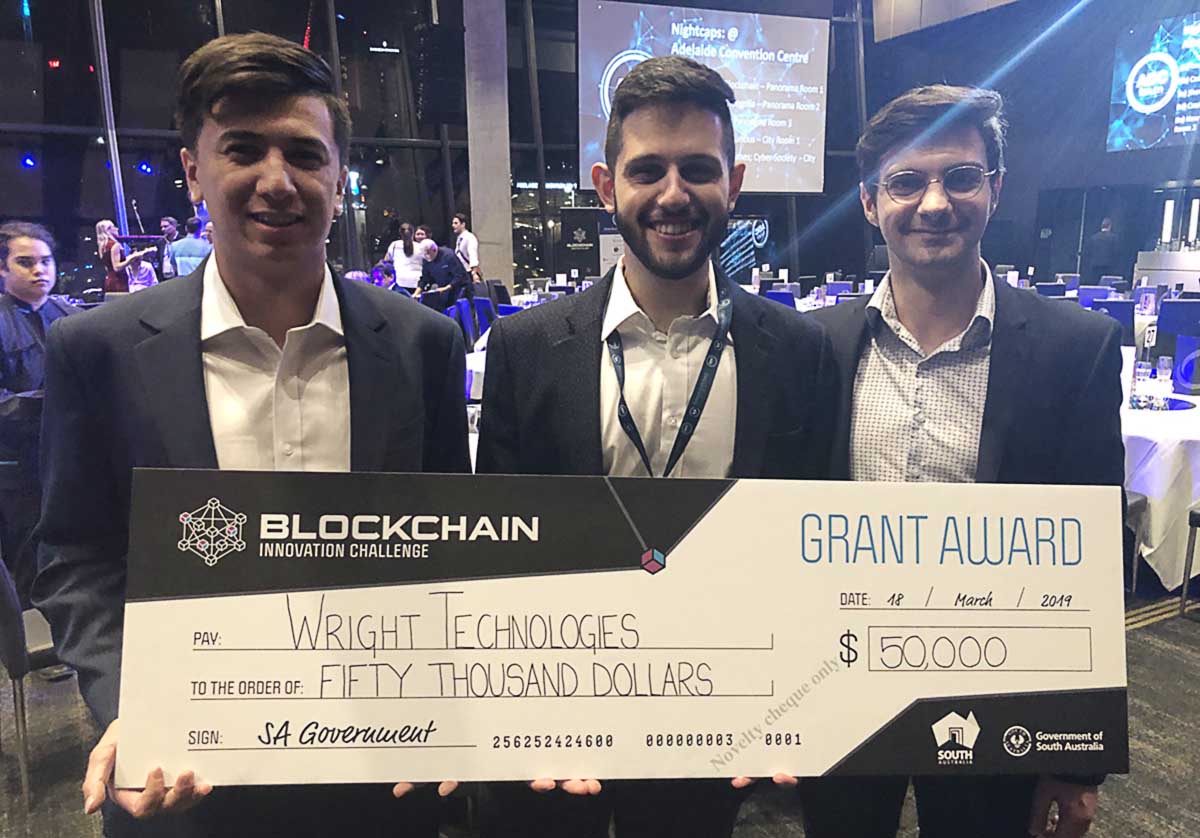 Wright Technologies with their cheque at the ADC Global Blockchain Summit.
---
Venture Catalyst Space company Wright Technologies were awarded $50,000 in grant funding as the co-winners of South Australia's Blockchain Innovation Challenge on Monday evening.

Launched in December 2018 by the South Australian Government, the competition invited local entrepreneurs to develop well-thought-out projects that use blockchain to improve operational efficiency, enable business model innovation, or influence how businesses, government and society interact.

One of 10 finalists, Wright Technologies participated in an incubation program at UniSA's Innovation & Collaboration Centre to refine their idea before pitching it at the ADC Global Blockchain Summit last night.

The company want to improve the accuracy and reliability of the location data of drones and were awarded the $50,000 to further develop their idea.

Chief Executive Officer, Kosta Canatselis says the team was grateful to be a part of the program and polish their pitch to communicate their ideas and plans more effectively with a variety of audiences.

"It was a pleasure to be part of the Blockchain Innovation Challenge. It's a fantastic initiative that is going to both grow the talent here in South Australia and give us the ability to kickstart our innovation," he says.

He says they will invest the money in the hopes of building a real-world prototype.

"We plan on spending the investment on research and development, more specifically on technology validation working to a real-world pilot through partnerships we've established.

"We're aiming to be able to demonstrate the ability to safely and securely integrate drones into regulated airspace and ensure we can trust drones to be used for innovative applications across government, and industry."

Delivered by local startup LeapSheep, the program was supported by and hosted by the Innovation & Collaboration Centre.

In addition to the grand funding, the team were also awarded part scholarships to LeapSheep's Business Builder Program to progress their business models.