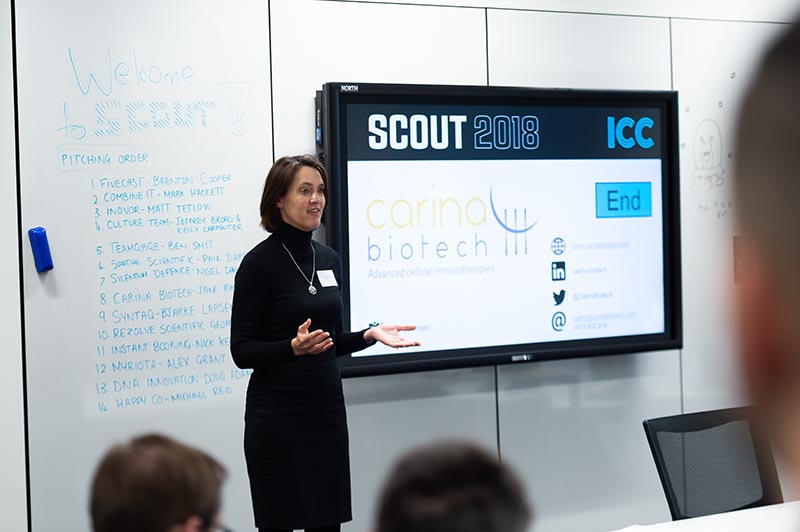 Carina Biotech pitching at ICC event SCOUT 2019.
---
Five local startup and early stage companies have received significant funding through the Government's Research, Commercialisation and Startup Fund (RCSF), four of which have been supported by the Innovation & Collaboration Centre during their startup journey.
The objective of the RCSF Fund is to contribute to economic growth by supporting collaboration between enterprise, researchers and universities. The fund also contributes to the commercialisation of new products and services, building research and research infrastructure capability in South Australia through increased investment and encouraging the establishment and growth of startups.
There are three streams in the fund:
Strategic Research Initiatives

Supports research initiatives that will create innovative solutions or translate research into industry or commercial outcomes that address economy-wide challenges for South Australia

Startup and Early Stage Company Incentive

Provides entrepreneurs with funding to start and scale their innovative early-stage businesses. Entrepreneurs can apply via three pathways:

Bootstrap Pathway – up to $200,000 matched equally by founders with in-kind contributions and cash.
Incubator Pathway – up to $100,000 with at least 50% of the grant matched by an investor who brings value in addition to their financial investment.
Scale Up Pathway – over $100,000 and up to $1 million with the full grant amount matched equally by investors.

Entrepreneurship and Innovation Ecosystem Initiatives

Supports programs, events and activities that have broad benefit to the startup community.
For more information, and to apply, visit innovationandskills.sa.gov.au/RCSF