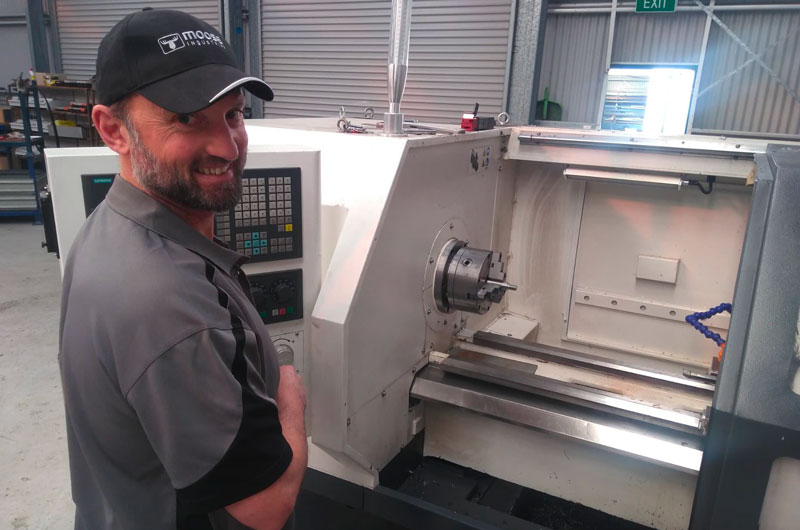 Nigel 'Moose' Eckermann from Port Lincoln's Moose Industries utilising new technology to innovate within their business
---
The regional Innovation & Collaboration Centre at UniSA Whyalla today announced the four local startups and small businesses that have won a place in the Venture Catalyst business support program.
The successful participants will receive a personalised support program uniquely designed to help businesses navigate their journey towards building a global and investment-ready business.
The Venture Catalyst experience includes world-class startup workshops, coaching and personal mentoring, a stipend, access to a global network of expert advisers, as well as the University's student, academic and industry connections.
Associate Director of the ICC, Jasmine Vreugdenburg says it is important to support early stage businesses that are looking to disrupt or create new markets, especially when there are economic downturns.
"We believe more new companies start in downtimes than in good times and come out the other end, stronger and more resilient for the experience," she says.
"We want to support fast-growth new companies create new offerings because they can be crucial to our economic recovery."
The companies selected to take part are Local Liquid, Moose Industries, Ohana and Oxamii.
Local Liquid Local Liquid hopes to trial a way to enrich lime sand to improve growing conditions. They plan to do this by incorporating waste outputs into existing lime sand to develop and sell as enriched lime sand which will have additional benefits for soil and crop health.
Moose Industries Moose Industries design develop and manufacture quality, robust agricultural machinery to give farmers a higher level of control in optimising machinery features to suit their individual farm needs. This enables farming enterprises to make agile decisions when dealing with seasonal, financial and environmental variables, and assists in increasing yields and profit.
Ohana Ohana is a tool designed to help co-parenting families connect and be organised, partnered with education and support. Ohana proposes the development of a major co-parenting app linked to an education and support program to reduce the pressure and adverse effects that come with separated families.
Oxamii Oxamii has launched 'The People's Grid', an energy marketplace platform, where for the first time, households can buy their electricity directly from solar farms. The energy is clean, local and supports the community
CEO of Oxamii, Aaron Yew applied for the program after it was recommended to him and says he is looking forward to the mentoring, especially from the Entrepreneurs in Residence.
"We are currently trying to raise investment to allow us to grow and being mentored through this critical time will be invaluable," Yew says.
Moose Industries has been participating in the program since March and Operations Manager Hamish Robertson says the access to workshops and personalised mentoring has had a profound impact on the business.
"We applied because we wanted to be more competitive in the market and increase our sales, and to do this with knowledge, support and confidence," Robertson says.
"The mentoring has really shifted our mindset and helped us acknowledge the progress we have already made. We are really happy we made the decision to apply."
Applications are open on a rolling basis each month. Those who apply before June 15 will be eligible for the $10,000 stipend. More information can be found at icc.unisa.edu.au/regional.
The regional Innovation & Collaboration Centre is supported by the Australian Government Department of Industry, Science, Energy and Resources through the Entrepreneurs' Programme as well as the Whyalla City Council.
Media contact: Georgia Minarelli email Georgia.Minarelli@unisa.edu.au mobile: 0413 314 726