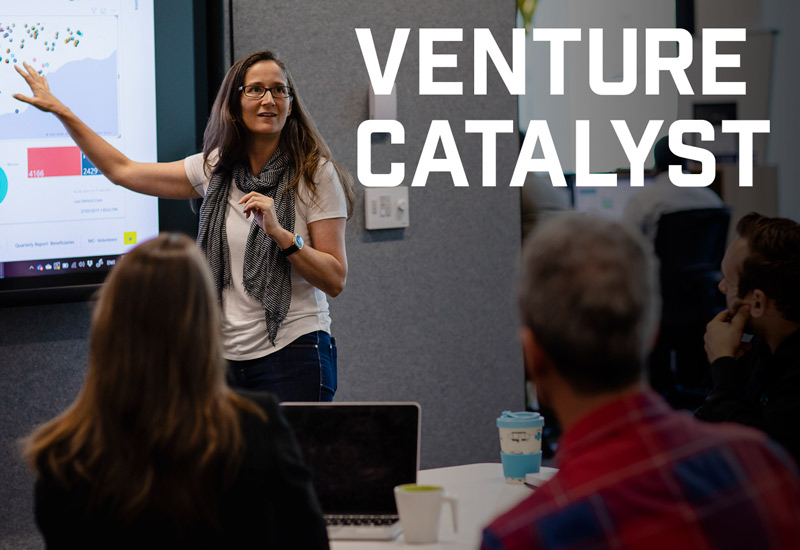 Applications for the Venture Catalyst program are currently open and closing soon.
---
Applications are open until the end of April for the Venture Catalyst program which helps support and grow startup businesses, with the program now transitioned to online delivery for accepted startups around the world.
Delivered by the Innovation & Collaboration Centre (ICC) at UniSA, the program is giving each successful applicant a $10,000 equity-free stipend to help people with a new business concept to get them off the ground.
The six-month program of support offers three categories: space, general and social enterprise.
The space category supported by the South Australian Space Industry Centre, is designed for those developing new services or products for the space industry. The general category is open to any industry sector and focuses on supporting business concepts which have the potential for high growth and are globally scalable. Finally, the social enterprise category is sponsored by the Pank family, open to UniSA students and alumni looking to set up a business that benefits community causes.
Successful participants receive tailored group workshops, one-on-one mentoring, events and networking opportunities, and access to UniSA's research, networks and resources including the ICC's three Entrepreneurs in Residence.
Participants also join a growing community of like-minded people who share their experiences of success and failure and learn and grow from each other.
Amidst the pressures of the current global pandemic, UniSA has ensured all aspects of the program can be delivered online.
The ICC's Associate Director Jasmine Vreugdenburg says now more than ever is the time to be supporting innovation with most startups working to solve problems that will change how society thinks, behaves, lives and does business.
With the landscape constantly evolving, the program has changed with it, to better support founders.
"The Venture Catalyst program has evolved since it began in 2014 and with the new challenges facing startups right now, we are geared to support and fast track new industries that will inevitably come through from the current crisis," Vreugdenburg says.
"Right now, creativity, clever ideas and the determination to find solutions are exactly what we need, and we are hoping that the silver lining of the current pandemic will be to support some great thinkers and innovators to bring their ideas to fruition."
Part of the 2019 cohort of companies is Matthew Moyes, Director of FrontLine BI, an automated software as a service platform that works with trades and contractors to manage time, jobs and information.
Moyes says these unprecedented times has meant organisations need to change how they run their business with communication the key, especially when working in a team environment.
"We provide a centralised platform for undertaking crucial business activities, enabling trades companies to continue their project work remotely.
"Now more than ever, with people having to work from home, it has never been more important to keep the channels of communications open.
"Conversations that used to happen around the 'water cooler' are not happening. Our management tool can be used to formalise the key information that is necessary to run a project and the company as a whole.
"What we can't and don't want is to take the human interaction out of communication."
UniSA alumni Tom Reed is also part of the program as Founder of ValAI, a company striving to provide more accurate automated price predictions for real estate.
Finalists in the Blockchain Innovation Challenge, ValAI applied for the program to help them develop and validate their business concept.
One of the key benefits for his business was having a support network and knowing they were not on the startup journey alone.
"Key benefits of this program for us have been the business advisory and being surrounded by other people and companies on the same mission, encountering similar problems to us," he says.
"We have developed over time through our involvement with the program, strengthening our business plan, pitch deck, go-to-market strategy as well as interns and volunteers provided through the University."
The Innovation & Collaboration Centre is based in Adelaide with a regional hub in Whyalla. The Centre gives entrepreneurs and those with early-stage ideas, a place to grow and receive support and the tools they need to build a successful startup.
The program is open globally with regional South Australian applications strongly encouraged. For more information and to apply, visit the website icc.unisa.edu.au.
Media contact: Georgia Minarelli email: Georgia.Minarelli@unisa.edu.au mobile: 0413 314 726