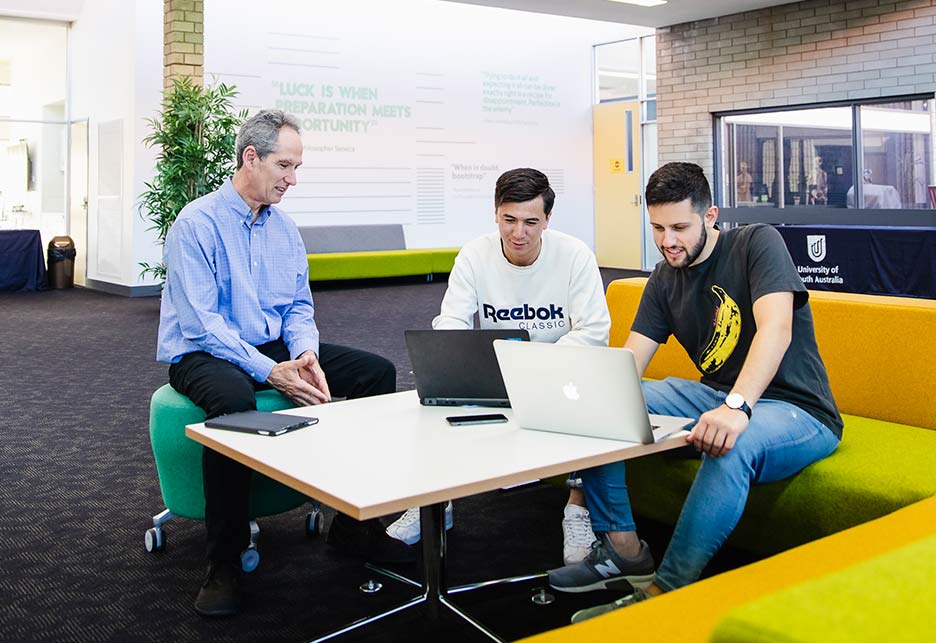 Entrepreneur in Residence Terry Gold with a startup at the regional ICC
---
The Innovation & Collaboration Centre (ICC) at UniSA's Whyalla campus is seeking applications for their Venture Catalyst program that includes a $10,000 equity-free stipend to help people with a new business concept, get it off the ground.
The six-month program of support is for anyone who has an innovative idea and wants to explore if that idea might make a profitable startup business.
Applications are open all year round with successful participants receiving tailored one-on-one mentoring, events and networking opportunities, access to UniSA's research, networks and resources including the ICC's three Entrepreneurs in Residence.
Participants also join a growing community of likeminded people who share their experiences of successes and failures and learn and grow from each other.
Amidst the pressures of the current global pandemic, UniSA has ensured all aspects of the program can be delivered online.
The ICC's Associate Director Jasmine Vreugdenburg says now more than ever is the time to be supporting innovation with most startups working to solve problems that will change how society thinks, behaves, lives and does business.
With the landscape constantly evolving, the program has changed with it, to better support founders.
"The Venture Catalyst program has evolved since it began in 2014 and with the new challenges facing startups right now, we are geared to support and fast track new industries that will inevitably come through from the current crisis," Vreugdenburg says.
"Right now, creativity, clever ideas and the determination to find solutions are exactly what we need, and we are hoping that the silver lining of the current pandemic, will be to support some great thinkers and innovators to bring their ideas to fruition."
The program offers three categories, general, space and social enterprise.
The general category is for anyone with an innovative business idea. The space category is designed for those using space technology or data. Finally, the social enterprise category is for UniSA students and alumni looking to set up a business that benefits community causes.
Local Whyalla resident Matthew Wauchope from Eyre Power Partners says the program has given him an understanding of business fundamentals and the tools available.
He says being an engineer, not a businessperson, the program has helped him bridge the gap.
"The program has been great. It has helped me identify priorities and work through them by focusing on one part of the business," he says.
"Major issues and risks have been worked through so I can move on to the next priority.
"I would recommend other startups apply for the program. There are a lot of benefits to businesses, especially having access to mentors and technical professionals who have started their own businesses and can advise on delivering a profitable business."
The Innovation & Collaboration Centre is based in Whyalla with their headquarters at UniSA's City West campus in Adelaide. The Centre gives entrepreneurs and those with early-stage ideas, a place to grow and receive support and the tools they need to build a successful startup.
Those interested in the program can contact Community Program Coordinator, Denni Russell on 08 8302 6001 or iccadmin@unisa.edu.au. More information about applying can be found on the website icc.unisa.edu.au.
The regional Innovation & Collaboration Centre is supported by the Australian Government Department of Industry, Science, Energy and Resources through the Entrepreneurs' Programme.
Media contact: Georgia Minarelli email Georgia.Minarelli@unisa.edu.au mobile: 0413 314 726