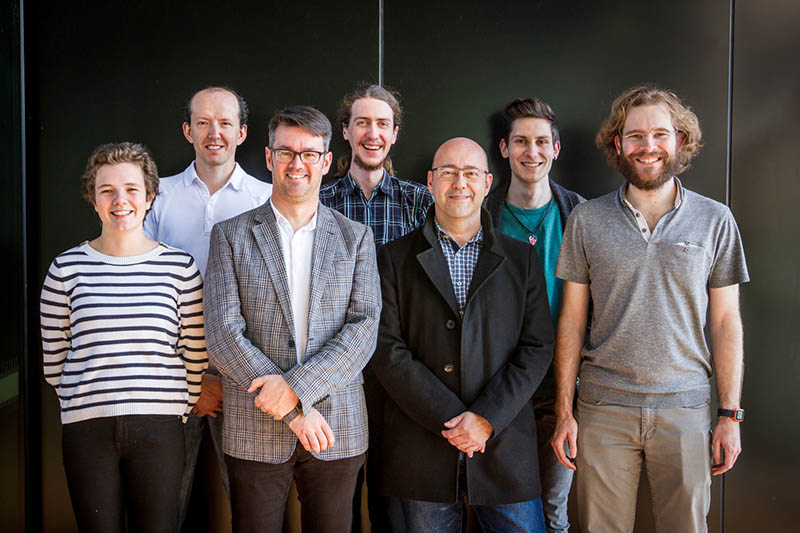 Ping Services: (L to R) Naja Dohm, Jon Cooper, Matthew Stead, Jake Bott, Maurizio Demontis, Robby Ortloff, York Possemiers.
---
Australian tech startup, Ping Services, today announced a $1.3 million seed funding round and major investors including Artesian Clean Energy Seed Fund.
The company was one of the first five startups accepted into the inaugural Venture Catalyst Space program at the Innovation & Collaboration Centre (ICC) in 2018.
During their twelve months in the tailored support program, the company identified a target market, honed their prototype and secured additional staff and pre-seed fundingbefore moving to Lot Fourteen and raising additional capital.
Ping will use the $1.3 million to accelerate its global customer growth and scale the manufacture of their patented technology, the Ping Monitor.
The world-first device is changing the face of wind energy by autonomously detecting wind turbine blade damage, costing the industry $2 billion annually.
The round, which brings Ping's total funding to $2.2 million, adds to private investor and government investment in pre-seed funding rounds via the Australian Government Accelerating Commercialisation Grant and the South Australian Research, Commercialisation and Startup Fund.
Ping Monitor offers the $94.9 billion global wind power industry a simple solution to tackle current costly, ad hoc and time-intensive turbine to turbine maintenance and repair approaches.
The device magnetically attaches to individual wind turbine towers and collects data, alerting maintenance staff when an anomaly in sound is detected via simple dashboarding.
In South Australia, the home of Ping Services, wind power now accounts for 34 per cent of electricity production and represents 35 per cent of Australia's installed wind power capacity.
As Australia continues to be a leading global player in wind power generation, this device is seen by Ping's founders, investors and stakeholders as an integral part reducing the cost of renewable energy and speeding up global adoption.
Chief Executive Officer, Matthew Stead says it didn't happen overnight but with hard work comes rewards.
"Our success in this seed funding round is a testament to the hard work and dedication of our team and the unwavering support of our investors and global customer network.
"We're thrilled to have gathered a strong network of investors who recognize Ping's early achievements, are confident in our growth potential, and actively support our vision and values, particularly in helping to support the growth of renewables."
Associate Director of the ICC, Jasmine Vreugdenburg worked closely with the company and praises their diligence and determination, saying they were always it for the long haul.
"We are very proud of Ping's success. They are a real testament to the structured business support provided by the Venture Catalyst Space program," she says.
"We are elated about the ongoing milestones being achieved by one of our very first participants."
Ping continues to develop and build a wide customer base in the USA and Australia, while discussing opportunities in Japan, France, India, the UK and Europe.
The startup is also expanding the application of the technology in mining and rail freight industries.