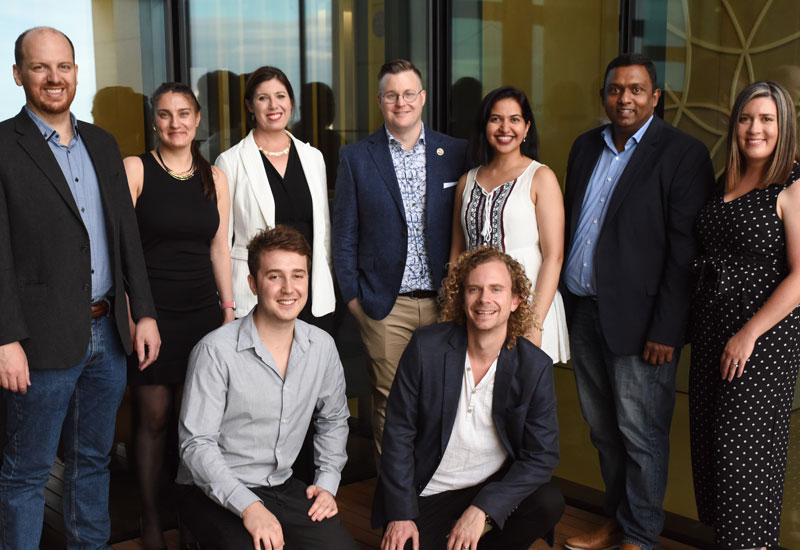 Venture Catalyst Space 2021 Cohort: Andrew Barton (Moonlode), Guler Kocak (SPACELIS), Jasmine Vreugdenburg (Director, ICC), Adam Wickham, Harshitha Rajashekara (Locus Rose), Lloyd Jacob (Hex20), Tessa Ewens (Locus Rose), Ryan Daley (Locus Rose), Giles Kirby (Firefly Biotech).
---
One of the major milestones in the Innovation & Collaboration Centre's calendar is the Venture Catalyst Space graduation.
In late November, Australian space companies and stakeholders celebrated the fantastic achievements of the 2021 space cohort.
These nine space startups are now poised to reach new heights in the global space economy.
Some major highlights from this year's program:
Collectively, the 2021 cohort raised $4.6M in additional investment and grants
The cohort made more than 60 space industry connections across Australia and the globe
Two international startups, Astroport Space Technologies and Digantara, are establishing offices in Adelaide
We saw the signing of an international MOU between US-based Astroport Space Technologies and the SA-based Andy Thomas Centre for Space Resources to further research around civil engineering processes on the Moon's surface.
Over the course of the program the cohort received more than 1,000 hours of support, including mentoring, workshops and pitch development.
You can watch our video that showcases our startups and demonstrates what Venture Catalyst Space is all about:
A huge congratulations to our 9 Venture Catalyst Space graduates:
It's clear that the Venture Catalyst Space program is helping to build space startups and deliver economic benefit to South Australia, while cementing the state's position on the world space stage.
The ICC is beyond excited for 2022. The new cohort will be announced in January.
Download our brochure for more information on 2021 participants.